Go Back to Real Ale Pubs Main Page
1. BORROWBY, Wheatsheaf Inn, near Thirsk, YO7 4QP (01845 537274): Well-kept, welcoming free house in an attractive village a short distance off the A19 trunk route. The low-beamed ceiling of the cosy public bar shows its 17th century origins and the splendid canopied fireplace gives a very traditional feel, particularly in winter. Diners have a separate room and there is also a small drinking area to the rear. There are generally two guest beers on tap. Beer Garden.
2. CARLTON MINIOTT, Vale of York, Carlton Rd, near Thirsk YO7 4LX (01845 523161): Free house close to Thirsk rail station. Small public bar with pool table dedicated to sports, with large lounge and separate restaurant and good value bed and breakfast.
3. KNAYTON, Dog & Gun, near Thirsk, YO7 4AZ (01845 537368): Pleasant village pub just off the A19 dual-carriageway. Although partly opened out, the bar/pool area is distinctly separate from the main lounge, which has a rustic feel with stone fireplace, partly bare floorboards and large tables; there is also has a small dining area to one side.
4. MAUNBY, Buck Inn, near Thirsk, YO7 4HD (01845 587777): In attractive village near to River Swale at end of long cul-de-sac from Newby Wiske, it is popular with fishermen, diners and locals. Attractive, farmhouse-style front bar partitioned into two sections; lounge/restaurant area on higher level to rear.
5. PICKHILL, Nag's Head, near Thirsk, YO7 4JG (01845 567391): Well-run, comfortable country inn that strikes a perfect balance between food pub and locals bar. In the same hands for over 30 years, it has an outstanding reputation for food, with a separate restaurant and lounge, yet the public bar remains a separate entity, well supported by local customers. Good accommodation is available – the landlords are both riding enthusiasts and can arrange activities for guests.
6. SANDHUTTON, King's Arms, near Thirsk, YO2 4RW: Roadside inn in a small village focusing principally on food, served to a very high standard and retaining a public bar, popular with locals.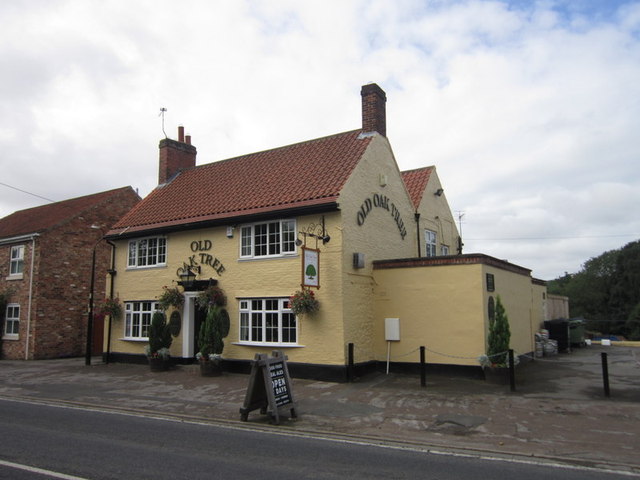 7. SOUTH KILVINGTON, Old Oak Tree, near Thirsk, YO7 2NL (01845 523276): Pleasant roadside pub decorated inside and out in "Victorian" style. There is a large car park to the side and rear, where there is also a large grassed area. Please don't park in front of the pub. Focuses principally on food in comfortable but traditional surroundings, there is a small bar area to the right of the entrance.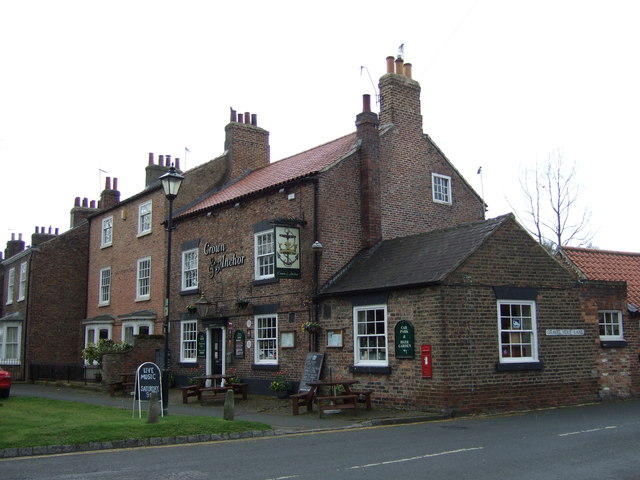 8. SOWERBY, Crown & Anchor, 138 Front St, near Thirsk, Y07 1JN (01845 522448): Pleasant old pub, comfortably modernised in traditional style retaining the atmosphere of a village local with distinct public bar and lounge areas and a small games room.
9. THIRSK, Black Bull, 75 Market Pl, YO7 1EY (01845 525310):  Straightforward town centre pub in a corner of the Market Place with single L-shaped lounge bar, owned by Marston's.
10. THIRSK, Black Lion, 8 Market Pl, YO7 1LB (01845 574302):  In the corner of the Market Place on the way to the delightful Ritz Cinema, this pub was completely refurbished in 2008.  It is now a bar and bistro with an overwhelming accent on food.  Three rooms including a large bar area to the front.
11. THIRSK, Blacksmith's Arms, Market Place, YO7 1ET: Old pub of character with "half timbered" interior and a number of drinking areas. Features in CAMRA's "Historic Pubs of Yorkshire & Humberside".
12. THIRSK, Black Swan, 9 Front Street, Norby, Y07 1BG (01845 522593): Former Vaux , now free, house a few hundred yards from the town centre and just north of Thirsk Parish Church, serving mostly a housing area to the rear. The comfortable interior is opened out but retaining three distinct drinking areas.
13. THIRSK, Cross Keys, 32 Kirkgate, YO7 1PL (01845 522550): Splendidly traditional town centre boozer of character inhabited by committed John Smith's drinkers. Front bar opened out into a single room, with a separate games room to the rear.
14. THIRSK, Darrowby Inn, 47 Market Pl, Y07 4NJ (01845 523222): Takes its name from the mythical setting of the James Herriot vet stories; the original veterinary practice was close by in Thirsk and is now a museum. Part of the Enterprise Inns chain.
15. THIRSK, Frankland Arms, 23 Ingramgate, YO7 1DF (01845 522027): Locals' pub on one-way system near the Sutton Bank road a short distance to the east of the town centre.
16. THIRSK, Golden Fleece Hotel, Market Pl, YO7 1LL (01845 523108): Imposing old large and comfortable market town hotel overlooking the town centre. Beware – the bar is closed on Saturday afternoons. The attractive town of Thirsk is the 'Darrowby' of James Herriot fame and nearby is a fascinating museum in his original veterinary surgery and home.
17. THIRSK, Lord Nelson, St James' Green, YO7 1AQ (01845 522845): Facing onto a small green just across Cod Beck from the town centre, a change of use application was rejected in 2002 and the current licencees are making a real effort to make a go of things at this comfortable free house. The long, narrow locals bar is well stocked with trophies; the lounge forms an eating area for home-cooked food; accommodation is also offered. Beer garden. Closed Mondays in winter.
18. THIRSK, Old Red House, Station Rd, YO7 4LT (01845 524383): Hotel opposite the railway station, around a mile from the town centre, with single large drinking area.
19. THIRSK, The Little 3, 13-15 Finkle St, YO7 1DA (01845 523291): Old, low-beamed pub just off Market Place, which claims a history as far back as 1214. The pub is a warren of small, low-beamed half timbered rooms, with impressive fireplaces and iron ranges.
20. THIRSK, Royal Hotel, 57 Market Pl, YO7 1EY (01845 522308): The narrow bar leads into a further drinking area at the rear, all renovated in a "basic" rustic style.
21. THIRSK, Three Tuns Hotel, Market Pl, YO7 1LH (01845 523124): In corner of the Market place, reopened as a J D Wetherspoon hotel in December 2008, offering good value accommodation. There are several comfortable drinking areas, with those either aside of the entrance retaining a market town hotel feel. Off the main lounge are several old brick-vaulted cellars, imaginatively converted into cosy bars.
The guide is copyright of CAMRA and intended for private use only. Reproduction or commercial use of the data is not permitted without the express written permission of CAMRA North West Yorkshire.