Go Back to Real Ale Pubs Main Page
1. BROMPTON ON SWALE, Crown Inn, Richmond Road, DL10 7HE (01748 811666): Part of the Punch chain – started selling real ale summer 2011.
2. BROMPTON ON SWALE, Farmers Arms, DL10 7HZ (01748 818062):  Former Vaux pub on old A1 (now A6136) just north of Catterick Bridge.  Part of the Punch chain.  Interior opened out into large eating/drinking area.
3. CATTERICK BRIDGE, Bridge House Hotel, DL10 7PE:  Close to the entrance of Catterick Racecourse, this hotel is geared up to functions.
No Picture As Yet
4. CATTERICK GARRISON, Bar 28, 28 Shute Rd, DL9 4AF (01748 836232):  A music and dance venue catering mainly for the garrison trade; formerly Harry's Bar.
No Picture As Yet
5. CATTERICK GARRISON, JT's, 21 Hildyard Row, DL9 4DH (01748 833899)
No Picture As Yet
6. CATTERICK GARRISON, Hunter's (formerly Le Maginot), 4-6 Byng Rd (01748 832404/833796):  Part of a shopping parade known as the 'White Shops',
No Picture As Yet
7. CATTERICK GARRISON, Louis' Bar, Kitchener Rd, DL9 4AE (01748 836611):  On the fringe of the town centre, it is owned by Splindlebury Inns, a small chain.  A late night entertainment venue with music and dancing until 3am on Fridays and Saturdays.
8. CATTERICK VILLAGE, Angel Hotel, 19 High St, DL10 7LL.  Large hotel in a corner location; modernised front bar.
9. CATTERICK VILLAGE, Bay Horse Inn, 38 Low Green, DL10 7LP (01748 811383):  Busy village locals pub opened up into one main room, facing onto picturesque village green.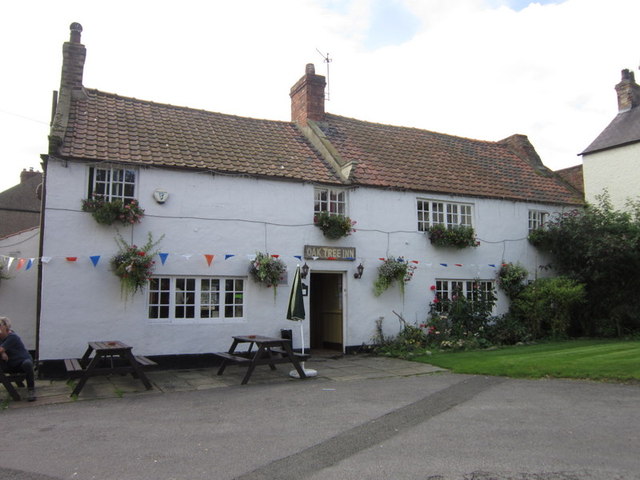 10. CATTERICK VILLAGE, Oak Tree Inn, Low Green, DL10 7LU (01748 818233):  An old-fashioned inn owned by Samuel Smith's Old Brewery, facing onto the village green.  There are three rooms – a public bar, a lounge and a small snug running off it with quaint window into the main room.
11. COLBURN VILLAGE, Hildyard Arms, Catterick Garrison, DL9 4PD (01748 832353):  Tucked away in quiet village off the A6136 (Catterick rd) near Catterick Garrison, it is directly on the Coast to Coast path, with some good walks around the pub.  A free house in the Hildyard family for 300 years, with a traditional interior with open fires, three bar areas and two very nice gardens, open evenings from 7pm and weekend lunchtimes.
12. DOWNHOLME, Bolton Arms, Richmond, DL11 6AE (01748 823716):  Comfortable and welcoming pub in small Swaledale village, bar is in two halves separated by a stone partition; a restaurant area in the rear extension is raised and has a large picture window.  Good home cooking is available in the restaurant or as bar meals.  Accommodation also offered.  Owned by the Ministry of Defence.
13. HACKFORTH, Greyhound Inn, DL8 1PB (01748 813360): Attractive whitewashed 17th century free house at edge of village on Crakehall road. Inside is a bar and comfortable lounge outside is a small beer garden and quoits pitch. Children welcome; home cooked food served; bed & breakfast available.
14. HUDSWELL, George & Dragon, DL11 6BL (01748 518373):  A homely, multi-roomed country inn with a large beer terrace offering fantastic panoramic views over the Swale valley.  Reopened June 2010 after a successful community buy-out and refurbishment, it now offers its own library, shop, allotments and other community facilities, as well as food and drink.
15. RICHMOND, Bishop Blaize Hotel, Market Place, DL10 4QL (01748 823065 ): Small old pub at top of Market Place. A long, narrow lounge at the front features a low-beamed ceiling, contrasting with the raised area to the rear. New management in 2010 has placed a greater emphasis on cask ales.
16. RICHMOND, Black Lion Hotel, 12 Finkle St, DL10 4QB (01748 823121):  Large old town hotel of character in a narrow street off the Market Place.  Entrance hall leads to a long bar on one side and a dining room and snug lounge with low ceiling and a real fire on the other.
17. RICHMOND, Buck Inn, Newbiggin, DL10 4DX (01748 822259):  Rambling old free house of character situated on a cobbled street just off town centre.  There is a small snug at the front, then a main bar to the rear which features several drinking areas.  Beyond this is the beer garden, with its spectacular views over River Swale and castle.  Bed & breakfast.
18. RICHMOND, Castle Tavern, Market Place, DL10 4HU (01748 823187):  Near the foot of the Market Square and currently owned by Richmond Brewing company.
19. RICHMOND, Fleece Hotel, 5 Victoria Road, DL10 4DW (01748 825733):  One of the most striking pub exteriors in the region hides one of the biggest disappointments – currently for sale.
20. RICHMOND, Golden Lion Inn, Market Place, DL10 4QL (01748 825715): Old town centre pub opened up into single bar. Guest beers from the Marston's list.
21. RICHMOND, Holly Hill Inn, Sleegill, DL10 4RJ (01748 826830):  Half a mile south from the town centre, across and high above the River Swale, the bar is split into two levels, separated by a stone chimney breast with a cast iron stove; there is a pool table on the upper level.  A restaurant is accessed by a separate entrance.
22. RICHMOND, King's Head, Market Place, DL10 4HS (01748 850220):  Very plush hotel in centre of town with a menu to match, this is the place to go for a spot of old-fashioned comfort.  Part of the Best Western Hotels chain.
23. RICHMOND, Ralph FitzRandal, 6 Queens Rd, DL10 4AE (01748 828080):  Vibrant new pub in the JD Wetherspoon chain, opened in 2001 in a converted former Post Office.  There are three levels, each with full disabled access, decorated in a modern pastel style.  The lower level is a family area and there is also an outdoor drinking area. Regular themed beer festivals. A CAMRA Pub of the Year award past winner.
24. RICHMOND, The Ship, 93 Frenchgate, DL10 7AL (01748 823182):  Busy pub on a picturesque cobbled street at the edge of the town centre, this is a down-to-earth but comfortable local with a distinct nautical theme, focusing on HMS Richmond.
25. RICHMOND, Talbot Hotel, 33 Market Pl, DL10 4QG (01748 825412):  The interior of this mock Tudor pub has been opened up into a single main bar.
26. RICHMOND, Town Hall Hotel, Market Pl, DL10 4QL (01748 822068):  This bar snuggles beneath the Town Hall itself but is a completely separate entity.  Decoratred in mock Tudor style, its many rooms have been opened out around the central bar but it retains the atmosphere of a rambling, multi-roomed pub.  One section is designated for diners and another as a no-smoking area.
27. RICHMOND, Turf Hotel, Victoria Rd, DL10 4DW:  A pub of two halves – the public bar with a weekend disco and the comfortable two-level lounge decorated in traditional style.  Food served lunchtimes and evenings.
28. RICHMOND, Unicorn Inn, 2 Newbiggin, DL10 4DT (01748 823719):  This old pub has been opened out into a rambling series of separate rooms, decorated comfortably in traditional style.
29. TUNSTALL, Bay Horse, near Richmond, DL10 7QS (01748 818564):  Pleasant country pub not far from the A1 with three separate rooms including a comfortable main bar and a pool/games room with tiled floor.  Samuel Smith Old Brewery tied house.
The guide is copyright of CAMRA and intended for private use only. Reproduction or commercial use of the data is not permitted without the express written permission of CAMRA North West Yorkshire.