Go Back to Real Ale Pubs Main Page
1. AINDERBY STEEPLE, Wellington Heifer, near Northallerton, DL7 9PU (01609 775542): Two roomed pub catering for locals and diners; the lounge has an open fire. Reopened Autumn 2009 after period of closure.
2. BROMPTON (NORTHALLERTON), Crown, Station Rd, DL6 2RE (01609 772547): Long bar area converted from original pub and two cottages, with real fire at one end and pool area at the other. Separate snug room. Caters for local trade; no food.
3. BROMPTON (NORTHALLERTON), Green Tree, Stokesley Rd, near Northallerton DL6 (01609 780251): Small country pub situated on main A684 on outskirts of village. Two distinct halves to open plan bar, with lounge area and bar with tiles floor. Home cooking (not Mon/Tues). Beer garden with quoits pitch.
4. BROMPTON (NORTHALLERTON), Village Inn, 88 Water End, near Northallerton, DL6 2RL (01609 771660): In a picturesque location overlooking one of Brompton's village greens. Reopened July 2011 after two years of closure. Food led, it has a bar/restaurant with function rooms and 11 letting rooms.
5. BULLAMOOR, Fox & Hounds, near Northallerton, DL6 3QP (01609 772257): Isolated pub at country crossroads 1½ miles east of Northallerton, specialising in food. Cask Marque. Has also signed up to the "Locals Online" scheme with internet-linked computers for customers to use.
6. DANBY WISKE, White Swan, near Northallerton, DL7 0NQ (01609 775131): Much maligned in the 1970's by Wainwright when he turned up during his original 190-mile Coast to Coast walk – "You might, with luck, get a bag of crisps but certainly not a meal or sandwich" – this attractive pub has changed greatly but still retains much character and a very warm welcome. Reopened May 2010 following two years closure and extensive refurbishment. Facilities for Coast to Coasters including en suite B&B plus camping facilities including hot showers.  Food started early 2011. A CAMRA Pub of the Year award past winner.
7. EAST HARLSEY, Cat & Bagpipes, near Northallerton, DL6 2DW (01609 882301): Early 20th century pub at the edge of the village, with a large comfortable lounge and friendly bar. Popular for Sunday roast lunches.
8. JEATER HOUSES, Haynes Arms, Kirkby Sigston, near Northallerton, DL6 3TD (01609 773383): Comfortable A19 roadside pub specialising in food. There is a large restaurant area, a small lounge bar with stone fireplace and real fire, and a large main lounge.
9. KIRKBY FLEETHAM, Black Horse, 7 Lumley La, near Northallerton, DL7 0SH (01609 749010): In a small village a little off the beaten track, this pleasant inn has a long, cosy lounge and bar with a separate restaurant/function room to rear. Watch out for one or two particularly low beams! Reopened Summer 2009 after extensive refurbishment. closed Mondays except Bank holidays.
10. MORTON-ON-SWALE, Old Royal George, near Northallerton, DL7 9QS (01609 780254): Old pub with public bar and separate 40 seat restaurant.
11. NETHER SILTON, Gold Cup, near Thirsk, YO7 1JZ (01609 883416): Attractive pub in small village just to the east of the A19; changed hands 2004 following the rejection of a change of use application for conversion to private house in 2001. At one time had very limited opening hours but these are now much improved and the pub is getting back on an even keel once more. Best to check opening times before visiting, though.
12. NORTHALLERTON, Black Bull, 101 High St, DL7 8PP (01609 773565): Popular market town pub, it's interior has been opened out to form an L-shaped bar/lounge, with a separate dining room to the rear. Impressive array of original hand pumps are sadly now disconnected but cask beer is available on new replacements.
14. NORTHALLERTON, Durham Ox, 102 High St, DL7 8JX (01609 780836): Part of Marston's chain, it occupies an imposing corner position on Northallerton's High Street. There are two comfortably decorated bar/lounges appealing mainly to younger drinkers.
15. NORTHALLERTON, Fleece, 89 High St, DL7 8PP (01609 773345): Stone and half timbered building of great character next to the Town Hall, it is the oldest pub in Northallerton and has several separate drinking areas. Part of the Enterprise Inns chain.
16. NORTHALLERTON, Golden Lion, 9-11 Ainderby Rd, Romanby, DL7 8HA (01609 780270): Large open-plan pub facing Romanby village green.
17. NORTHALLERTON, Golden Lion Hotel, High St, DL7 8PP (01609 777411): Traditional and well-appointed town centre hotel with an imposing porch with golden lion sculpture. The Coachman's Bar at the rear is open to the public and has been opened out into an adjacent room to form a large lounge, popular with young drinkers at weekends.
18. NORTHALLERTON, Jolly Minister, Valley Road, DL6 1EZ (01609 779781): Estate pub half a mile to east of town centre.
19. NORTHALLERTON, Mason's Arms, 82 High St, DL7 8EG (01609 773465): Unusual, small, old-fashioned pub with room to the front, cosy drinking area around the bar and games room to the rear.
20. NORTHALLERTON, Nag's Head, 144 High St, DL7 8PE (01609 772305): The interior of this old pub has been opened out into a single drinking area. There is a small outdoor drinking area to the rear.
21. NORTHALLERTON, Oddfellow's Arms, 251 High St, DL7 8DJ (01609 773018): Does not appear to be on the High Street, despite its address, the Oddfellow's is tucked away behind the Parish Church at the gates of the town cemetery. Handling a mainly local trade, it was refurbished in 2001 after a fire.
22. NORTHALLERTON, The Standard, 24 High St (North End), DL7 8EE (01609 772719): Opposite Sainsbury's supermarket on A167 north of town centre, was briefly a Tap & Spile pub before reverting to its original name, which refers to the English defeat of the Scots at the nearby Battle of the Standard in 1138. The interior is artificial "olde worlde" with bare stone and brickwork and many old photographs and three distinct drinking areas. Beer Garden to rear, with it's very own Jet Provost aircraft!
23. NORTHALLERTON, Station Hotel, Boroughbridge Rd, Romanby, DL7 8AN (01609 772053): Imposing 1901 frontage to an 18th century hotel, originally built to serve long-disappeared racecourse. Formerly the Horse & Jockey, it became the Railway Hotel (as its splendid etched glass front windows proclaim) when the racecourse closed (the site is now occupied by County Hall opposite), then the Station Hotel. Beautifully restored Edwardian front bar and attractive mosaic hall floor, features in CAMRA's "Historic Pubs of Yorkshire & Humberside". Good value bar snacks at lunchtimes and occasional live music.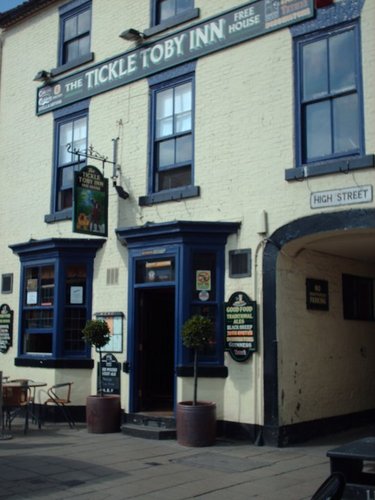 24. NORTHALLERTON, Tickle Toby Inn, 180 High St, DL7 8JZ (01609 778760): Refurbished in 2001 with new wooden flooring. Two distinct sections with drinking area to front and long, narrow lounge to rear, used for food at lunchtimes. Can get very busy at weekend.
25. NORTHALLERTON, Little Tanner, 227A High Street, Northallerton, DL7 8LU(01609 778801), Small bar accessed down a narrow passageway behind the White Horse chip shop on the High Street, reopened in May 2014 in the former Wine Press bar after two years of closure. Pleasantly appointed bar offering three cask beers and a real cider, mostly from Truefitt's microbrewery in Middlesbrough but with some guests; a separate room is upstairs. Ask for a loyalty card
26. NORTHALLERTON, Tithe Bar& Brasserie, 2A Friarage St, DL6 1DP (01609 778482): Formerly the Tanner Hop, reopened in its present guise in 2001 following extensive renovations after flooding. A CAMRA Pub of the Year award past winner, just off the High Street near the town's hospital. Specialises in real ale with a range of quality imported beers (ask for the beer menu) – you won't find a 'bog standard' lager here. Plain but attractive bar in a Belgian style, with bare floorboards and beer advertisements. Good food is served lunchtimes and early evenings in the downstairs bar; upstairs is a brasserie open evenings only.
27. OSMOTHERLEY, Queen Catherine, 7 West End, near Northallerton, DL6 3AG (01609 883209): In the centre of this picturesque village, this large pub has been opened up to create a single, elongated room with a comfortable lounge at one end and dining area at the other, separated by the bar area. Popular with walkers, Osmotherley is at the end of the famous Lyke Wake Walk and walkers can often be seen enjoying a well-earned pint on the bench outside after striding over the picturesque moors. The award-winning village loos nearby are a real gem!
28. OSMOTHERLEY, Golden Lion, 6 West End, near Northallerton, DL6 3AA (01609 883526): Noted for its superb food in attractive surroundings, with beer quality to match, CAMRA Pub of the Season Winter/Spring 2004/5. The candlelit main bar has been opened up and its dark wood floors and seating contrast with the whitewashed walls and many mirrors to create real atmosphere. Popular with diners there is also a separate restaurant upstairs but there is an equal welcome for non-diners, locals and walkers. On the edge of the North Yorkshire Moors, Osmotherley is a popular countryside destination.
29. OSMOTHERLEY, Three Tuns, 9 South End, near Northallerton, DL6 3BN (01609 883301): Old stone-built pub, now predominantly a restaurant but has reinstated real ale after several years' gap.
30. SCRUTON, Coore Arms, Station Rd, near Northallerton, DL7 0QP (01609 748215): Main bar is opened out; meals are offered in the no-smoking "Nicole's Restaurant" Tuesday-Saturday evenings and at weekend lunchtimes. Function room also available.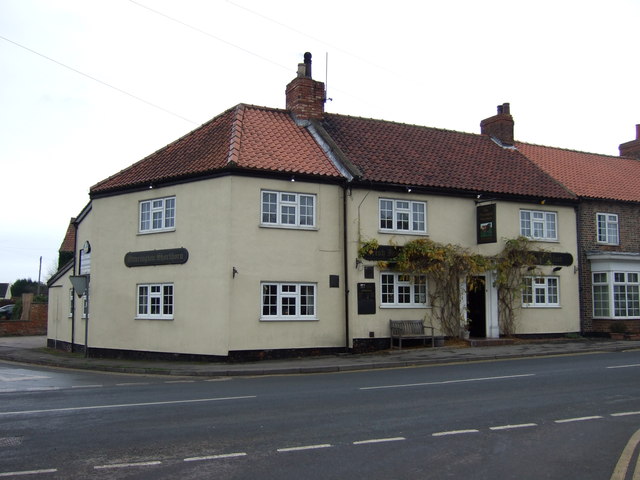 31. SOUTH OTTERINGTON, Otterington Shorthorn, near Northallerton, DL7 9HP (01609 773816): Old pub with interior opened out into carpeted lounge bar, eating area in separate room off bar.
32. THORNTON-LE-BEANS, Crosby Village Inn, near Northallerton, DL6 3SP (01609 772776): Just off the A168 Northallerton-Thirsk road, this pub has a focus on food but a now much-expanded range of cask beers.
33. THRINTOFT, New Inn, near Northallerton, DL7 0PN (01609 777060): Pub in small village to west of Northallerton. Large bar area to front catering for locals and diners, with good value food and separate restaurant at rear.
The guide is copyright of CAMRA and intended for private use only. Reproduction or commercial use of the data is not permitted without the express written permission of CAMRA North West Yorkshire.